June 25, 2015
Honeyed Peach Melba Bellinis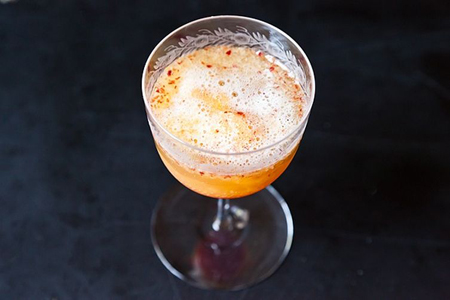 Author Notes: I created this version of the classic Bellini cocktail to serve at a dinner party celebrating my parents' 40th anniversary. My dad's a chef, so I really wanted every element of the meal to be unique. Made with seasonal fruits, this is a perfect cocktail to serve at a late-summer party. It's colorful and festive, plus you can prep each part of the cocktail in advance.
WHO: Sandy Smith is a recipe developer, food writer, editor, and professional baker from New York's Hudson Valley.
WHAT: A show-stopping summer cocktail.
HOW: You whip up a honeyed peach sorbet, boil some raspberry simple syrup, and combine it all with some prosecco.
WHY WE LOVE IT: Each element of this cocktail can stand on its own: the wonderful honeyed peach sorbet, the raspberry syrup, the prosecco. But when they're all mixed together, you get something special -- something unforgettable.
Serves 6 to 8
Honeyed Peach Sorbet
3/4 cup granulated sugar
3/4 cup water
1/2-inch pieces fresh gingerroot, peeled and thinly sliced
1/4 cup mild-flavored honey
2 pounds ripe peaches, washed, pitted, and cubed (but not peeled)
3 tablespoons freshly squeezed lemon juice
Raspberry Simple Syrup
1/2 cup granulated sugar
1/2 cup water
1 cup fresh or frozen raspberries
1 bottle Prosecco or other sparkling white wine
To make Honeyed Peach Sorbet: In a small saucepan, combine sugar, water, fresh ginger, and honey. Place over medium heat until boiling, stirring to dissolve sugar; let boil for 1 minute. Take saucepan off heat and remove and discard ginger slices. Place saucepan in an ice-water bath or refrigerate till cool.
While the honey syrup is cooling, prepare the peaches. Once cubed, toss them with the lemon juice. When the honey syrup is completely cooled, place cubed peaches in a food processor with the chopping blade attachment and pour cooled syrup over them; puree until smooth.
Pour sorbet base into ice-cream machine and process according to manufacturer's directions. Place in freezer for at least 3 hours prior to serving.
To make Raspberry Simple Syrup: Place sugar and water in a small saucepan and bring to boil over medium heat, stirring until all the sugar is dissolved. Add raspberries and let boil for 1 minute, stirring occasionally.
Pour the raspberry syrup mixture through a chinois or sieve, into a bowl. Use a spatula or the back of a spoon to press the raspberries through the chinois, removing the seeds. Cool syrup in an ice-water bath or in refrigerator. When cool, pour into a container with a tight-fitting lid and refrigerate until ready to use.
To assemble Bellinis: For each serving, place 1 scoop of Honeyed Peach Sorbet in a champagne flute or small wineglass. Drizzle with a tablespoon of Raspberry Simple Syrup and pour Prosecco or other sparkling white wine over. Serve immediately.
Posted by: marlon at 09:13 AM | No Comments | Add Comment
Post contains 471 words, total size 3 kb.
11kb generated in CPU 0.07, elapsed 0.0893 seconds.
38 queries taking 0.0615 seconds, 77 records returned.
Powered by Minx 1.1.6c-pink.