January 23, 2015
A Melting Pot Thanksgiving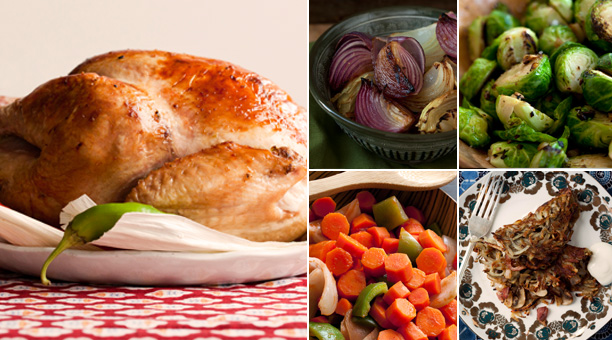 tpF or decades, New England was considered the Eden of our national cuisine. The "traditional" (read: New England–style) Thanksgiving meal was offered as evidence that American cuisine sprang from an exchange between New England's corn-eating, chowder-making, bird-hunting Wampanoag and the Puritan settlers who tried to "civilize" the same ingredients by cooking them with British influences to create a harvest feast at Plimouth Plantation, circa 1620. Alas, history rarely accommodates the human desire for a simple story. Spanish explorers most likely prepared the first "thanksgiving" in St. Augustine, Florida, in 1503, although French and British settlers in other regions, namely Jamestown, all make legitimate claims to having made the first of the annual harvest meals.
And, as with theories of Thanksgiving's origin, there's never been a single universal menu for Thanksgiving dinner. Rather, the meal, like most of American cooking, is alive, a constantly shifting feast. Generation after generation, immigrants are pulled between their children's desire to be like everyone else and the yearning to re-create the family feasts of their own past.
This can result in a global table, with new traditions such as the tamale-stuffed turkey; garlic stir-fried Brussels sprouts; sweet-and-sour carrots; herbed-roasted onions; and potato pancakes stuffed with bacon, mushrooms, and onion offered here. However, the road from creating a new dish to embracing it as a family tradition is not always smooth. Traveling around the country collecting food stories and recipes for my book One Big Table: A Portrait of American Cooking, for instance, I found that Thanksgiving stories were often tales of the twin urges to forget the past and to honor it.
Pech Khunn, a pianist and music teacher whose parents fled Cambodia and settled in Montana, says that the lack of a roasted turkey on her family's Thanksgiving table was a source of shame for her.
"I started feeling sick in October when all the magazines started having these gorgeous big roasted turkeys on the cover," she says. "Cambodians like to poach poultry in a fragrant broth. My grandmother, who was the cook in our home, refused to roast turkey; she poached it. I loathed and despised poached poultry—I dreamed of the day that I could give my children a real Thanksgiving turkey."
I heard similar accounts involving turkey mole; Cantonese salt-baked turkey; Senegalese stewed turkey; a spiced, tandoori-style turkey; and a turkey stuffed with cardamom-scented Persian pilaf. Such international recipes might delight those suffering Pilgrim fatigue, but they saddened those who wanted to look, dress, and eat like faithful descendants of the shiny-shoe-buckle and knee-pants set.
Other variations on the classic theme, such as the lasagna that Ramin Ganeshram's Trinidadian mother served as a Thanksgiving side dish, were based on a misreading. "She thought that lasagna was an all-American dish because she had it for the first time in America and saw it at every potluck she attended, on every restaurant menu, and in every carry-out store she visited in America. So there it was, every year, roasted turkey with Neapolitan lasagna on the side," says Ganeshram.
Indeed, the Thanksgiving dishes that end up being passed from first- to second- and third-generation Americans tend to be riffs on the "classic" themes. Using homemade tamale mixture instead of bread crumbs to stuff turkey was, says Steve Pope, an idea that developed between Mexican ranch hands and the daughter of German settlers in west Texas. "I got [the recipe] from the granddaughter of a German settler, who said that her grandmother began fixing turkey this way in the early 1900s," says Pope.
And just as tamale made more sense than bread crumbs to at least one ranch family in Texas, spicy roasted onions made perfect sense to Lan Pham, a Vietnamese-born immigrant whose family moved to Baltimore when she was 2 years old.
"Cooking the onions in herbs brings out their sweetness just as cooking them in heavy cream does," she says, "and most Asians are not big on dairy, and would always choose rich flavor and aroma over rich cream." The slow-fired spice of these onions is a perfect companion to roasted bird—sweet and faintly smoky.
Annie Lau took a similar nondairy approach to Brussels sprouts. Ethnically Chinese, Ms. Lau was born in Malaysia and like her husband who is also ethnically Chinese but born in Hawaii, she had never seen a Brussels sprout until they moved to San Jose, California, in the 1990s. Passionate cooks, the Laus treat their kitchen as a laboratory where ethnic influences meet local ingredients. With some experimentation, they devised a recipe to coax the nutty sweetness from the little cabbages they discovered at their farmers' market. The dish has since become a mainstay of their Thanksgiving table and is so simple, Ms. Lau calls it "an experiment in laziness." But she does point out that with great ingredients, "the less you do, the better."
Sometimes first-generation cooks give up trying to pass along family recipes to their children. The writer Julia Alvarez's mother, for example, found that her son-in-law was far more interested in her culinary legacy than was her own daughter. In fact, she insists her son-in-law's iteration of her Dominican sweet-and-sour carrots is superior to her own. The slight, unexpected tanginess of the carrots, a counterpoint to the vegetable's natural sweetness, has made them a fixture of the family's Thanksgiving table in Middlebury, Vermont (and, for nearly a decade, of my own nouveau Pilgrim Feast, in New York, as well).
Other times, the exuberance of the cook and the addictive appeal of one of their dishes transcends all national borders and threatens the sovereignty of long-established elements of Thanksgiving. Were they placed next to a platter of Cecylia Roznowska's Potato Pancakes Stuffed with Bacon, Mushrooms, and Onion, for instance, mashed potatoes would surely question their future. A Polish-born dancer and choreographer who immigrated to Chicago in 1984, Ms. Roznowska is the founder of the Northwest Center of Traditional Polish Dancing and the Polonia Ensemble, a youth folk dance company that performs at festivals, parades, and weddings. Dance is one way she honors her heritage; her stuffed potato pancakes are another.
"They are as full of memories as they are calories," she says. From the very first Thanksgiving she prepared in this country, stuffed potato cakes have always been part of Ms. Roznowska's family feast. Like mashed potatoes, they can be made ahead of time; unlike humble mashed potatoes, the more festive pancakes scream special occasion and celebration.
Oddly, this United Nations of dishes works as a menu. To complete the multiethnic feast, bake a holiday classic with an Italian accent: Apple Crostata with Cinnamon-Almond Topping or Amaretto-Almond Streusel Pumpkin Pie. As bold and distinct as each menu element is, none overpowers or contradicts another. They are riffs on tradition, embodiments of the great American belief that the best is yet to come—a characteristic that Karl Koster, an amateur historian who is obsessed with cooking historically accurate American meals, insists is the single thread that unites American cooking. He has little patience with the big bang theory of New World cuisine. There was, he says, no one first feast:
"Wherever water met land, people converged. They came from different places, they cooked for survival, they ate a lot of nasty things and most of the time they only had two things in common, purpose and hope. They all believed that the best was yet to come. They approached everything they did as the beginning of a great new world."
Happy Thanksgiving!
Posted by: marlon at 08:25 AM | No Comments | Add Comment
Post contains 1246 words, total size 8 kb.
16kb generated in CPU 0.03, elapsed 0.0405 seconds.
38 queries taking 0.03 seconds, 77 records returned.
Powered by Minx 1.1.6c-pink.