August 25, 2014
Double Chocolate Layer Cake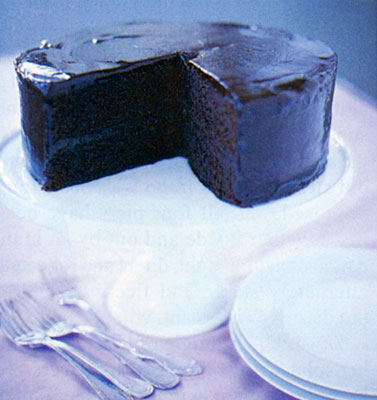 yield
Serves 12 to 14
This old-fashioned chocolate cake made our staff swoon! Chef Ed Kasky uses Callebaut semisweet chocolate for the cake and Guittard French-vanilla chocolate for the frosting, but any fine-quality semisweet chocolate will produce a wonderful result in either
Cloud Provider
.
Ingredients
For cake layers
3 ounces fine-quality semisweet chocolate such as Callebaut
1 1/2 cups hot brewed coffee
3 cups sugar
2 1/2 cups all-purpose flour
1 1/2 cups unsweetened cocoa powder (not Dutch process)
2 teaspoons baking soda
3/4 teaspoon baking powder
1 1/4 teaspoons salt
3 large eggs
3/4 cup vegetable oil
1 1/2 cups well-shaken buttermilk
3/4 teaspoon vanilla
For ganache frosting
1 pound fine-quality semisweet chocolate such as Callebaut
1 cup heavy cream
2 tablespoons sugar
2 tablespoons light corn syrup
1/2 stick (1/4 cup) unsalted butter
Special equipment
two 10- by 2-inch round cake pans
Preparation
Make cake layers:
Preheat oven to 300°F. and grease pans. Line bottoms with rounds of wax paper and grease paper.
Finely chop chocolate and in a bowl combine with hot coffee. Let mixture stand, stirring occasionally, until chocolate is melted and mixture is smooth
ageLOC Me
.
Into a large bowl sift together sugar, flour, cocoa powder, baking soda, baking powder, and salt. In another large bowl with an electric mixer beat eggs until thickened slightly and lemon colored (about 3 minutes with a standing mixer or 5 minutes with a hand-held mixer). Slowly add oil, buttermilk, vanilla, and melted chocolate mixture to eggs, beating until combined well. Add sugar mixture and beat on medium speed until just combined well. Divide batter between pans and bake in middle of oven until a tester inserted in center comes out clean, 1 hour to 1 hour and 10 minutes.
Cool layers completely in pans on racks. Run a thin knife around edges of pans and invert layers onto racks. Carefully remove wax paper and cool layers completely. Cake layers may be made 1 day ahead and kept, wrapped well in plastic wrap, at room temperature
dermes
.
Make frosting:
Finely chop chocolate. In a 1 1/2- to 2-quart saucepan bring cream, sugar, and corn syrup to a boil over moderately low heat, whisking until sugar is dissolved. Remove pan from heat and add chocolate, whisking until chocolate is melted. Cut butter into pieces and add to frosting, whisking until smooth.
Transfer frosting to a bowl and cool, stirring occasionally, until spreadable (depending on chocolate used, it may be necessary to chill frosting to spreadable consistency).
Spread frosting between cake layers and over top and sides. Cake keeps, covered and chilled, 3 days. Bring cake to room temperature before serving.
Posted by: marlon at 09:11 AM | No Comments | Add Comment
Post contains 444 words, total size 3 kb.
August 17, 2014
Cooking from another Culture
When it comes to cooking the food from another culture, the ingredients and techniques can be unfamiliar. Going to a foreign country and taking a cooking class is great, but not a readily accessible opportunity for most. Fortunately there are local cooking classes and cooking kits
Recently launched Global Grub offers cooking kits with extremely well written instructions that will help you succeed in making things like sushi, or jerk chicken with coconut rice and beans. I used the tamales kit and was very impressed with the quality of the ingredients, the clear instructions and the wonderful results. My dad said the tamales were the best he'd ever eaten!
Kits include the dry and hard to find ingredients, and range in price from $13.99 up to $19.99 and for every kit purchased, Global Grub donates a meal to someone in need through their local food bank. Global Grub offers tutorial videos on their site, and the instructions with each kit are easily folded into a stand for easy reference as you cook .
I'm a big fan of La Cocina. I've volunteered with them, written about them and took a wonderful mole class at their Mission location. Now they are holding even more classes that you can take from cooks who are part of their culinary business incubator program. Classes are an "interactive cooking party" and also include a meal. The $65 class fee supports the non-profit programs at La Cocina.
Though I don't have any direct experience to report, I'm intrigued by Culture Kitchen. They are combining classes with home cooks, videos and cooking kits to get you up to speed cooking things like pad thai, masala chai and eggplant with garlic and mint
Korean skin care brand
. Each class costs $60 and includes a full meal, locations vary, kits are $34.99.
Posted by: marlon at 03:46 PM | No Comments | Add Comment
Post contains 307 words, total size 2 kb.
14kb generated in CPU 0.007, elapsed 0.0443 seconds.
32 queries taking 0.0392 seconds, 80 records returned.
Powered by Minx 1.1.6c-pink.