October 17, 2014
Spicy Korean Cucumber Salad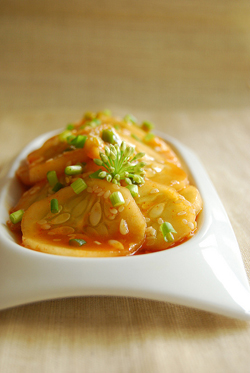 I have a good friend N, who loves everything Korean. She waxes enthusiastic on anything from K-pop, to digital perms, to where to get the most authentic Korean food in the city. Yes, she's been to Korea and is going again next year. Yes, she knows the names of all those cutie Korean singers
handmade jewelry
. Yes, she refers to Korean dishes by their proper names and not by "the yummy grilled pork that's kinda spicy and wrapped in leaves!" like I do.
She is also really good at karaoke. (Not that that has anything to do with Korea, because I think every country in Asia has its own karaoke culture. And if you live in the Philippines you *know* that we are the masters
Woohoo! Challenge accepted!)
Also, she hates vegetables.
This is for N. Hopefully, a spoonful of Korean will help the vegetables go down
Spicy Korean Cucumber Salad
(adapted from TheKitchn)
2 teaspoons rice vinegar
1-2 teaspoons gochujang (Korean red chili pepper paste)
1 teaspoon sesame oil
1 teaspoon sesame seeds
1/2 teaspoon salt
1 teaspoon sugar
3-4 stalks green onion, white and light green parts only, sliced
2 medium sized or 1 large cucumber, peeled and sliced
- Whisk together all the ingredients except for the cucumber. When the dressing is well-combined and the chili paste dissolved, add the cucumbers and toss to coat.
- Serve chilled or at room temperature.
I had actually bookmarked this recipe a while back because, well, because I like anything chili-flecked and pickley. So onto my Pinterest Crave board it went (if you'd like to see what else I'm pinning feel free to follow my boards here). I hemmed and hawed because I didn't have any gochugaru (Korean red pepper powder) and had yet to buy some. Finally, with a lone cucumber lamenting its sorry state in my crisper, I realized I had to make do with what I had on hand. And what I did have on hand was gochujang (Korean red chili pepper paste). Hmmm. Can do. I whipped up the dressing above the rest was history
data centre hk
. We had this with some five-spice fried chicken and, between C and I, this was finished in no time flat. The contrast between the cucumber's cool crunch and the spiciness of the dressing is what makes this salad a winner. I imagine this will work wonderfully with any grilled meat or fish…from Gogi Gui (Korean barbecue) to our own local Pinoy pork barbecue.
Next week I promise you another round-up of links, but since we are on the topic of Korean food, here is my favorite Korean food blog. If you are interested at all about Korean cooking, Eating and Living is a definite must-click.
N and I are planning a Korean barbecue soon. I'll bring this salad and some marinated kalbi (beef ribs). N with bring the pork and the music. We'll rustle up some soju. Suggestions for other dishes are welcome! It's the weekend folks…let's party
theradome reviews
!
Posted by: marlon at 08:09 AM | No Comments | Add Comment
Post contains 508 words, total size 3 kb.
11kb generated in CPU 0.01, elapsed 0.0315 seconds.
38 queries taking 0.0237 seconds, 77 records returned.
Powered by Minx 1.1.6c-pink.